Facebook now display photos in a black border pop-up photo viewer lightbox. Do you want to turn off this photo viewer on Facebook website? By default there is no option to switch back from new photo viewer to default photo browsing on Facebook. However, there are few workarounds and extensions that you can use in web browser for old style photo viewing on Facebook.

1. Refresh browser window / remove '&theater'
I. While you see image in new photo viewer, just press F5 or click Refresh button in the web browser. Same photo will load in default format instead of showing in new photo viewer after webpage refresh.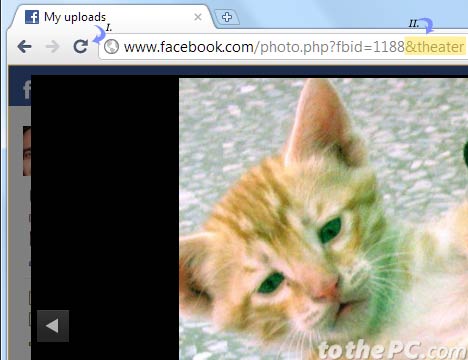 II. URL of webpage displaying image in new photo viewer will have '&theater' at the end. Just remove '&theater' and press the Enter key to load image in the default mode.
2. Better Facebook for Firefox, Opera, Safari, Chrome
Better Facebook is a free script for web browser for additional enhancement while viewing Facebook website. New version has been updated with option remove new Facebook photo viewer lightbox display.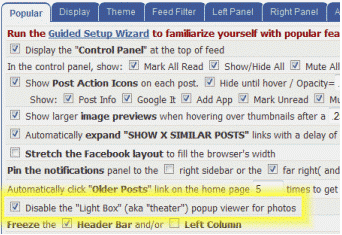 After you install the plugin script, just click to check option Disable the 'light box' aka theatre popup viewer for photos option.
3. Chrome: Old FB Album, Lightbox Killer

Google Chrome users can download and install Old FB Album extension to get rid of new photo viewer on Facebook. This extension rewrites the URL to display photos in the browser instead of irritating (and fancy) looking photo viewer.
Alternatively, you can also use Facebook Lightbox Killer extension [Not available – chrome.google.com/extensions/detail/bbnegcgiknndlkpjfaiighhmbdbfmkca?hl=en]in Google Chrome browser. It kills the annoying "light box" (aka "theater") popup when viewing pictures on Facebook.