New Microsoft PowerPoint 2010 has very useful 'Broadcast slideshow" feature. This allows you to share your PowerPoint presentation remotely with anyone on the internet. While you present slideshow in PowerPoint, other users can view same presentation simultaneously in their web browser using unique presentation URL.
Remote broadcast PowerPoint show on internet
1. Launch MS PowerPoint program on your computer. Open existing presentation or create new presentation.
2. Click "Broadcast slideshow" button under Slideshow tab. A new window will appear informing the need of Windows Live ID to use broadcast feature. Then click "Start Broadcast" button at the bottom to see window with slideshow broadcast URL.

3. Copy URL link displayed in Broadcast slideshow window. Pass that link to other users who need to view the same PowerPoint slideshow.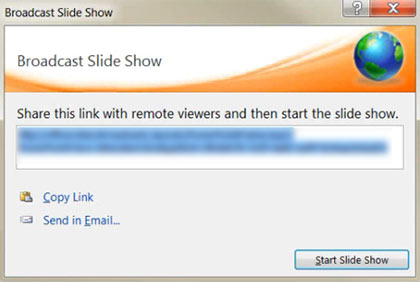 What you need – Microsoft PowerPoint program, Internet Connection and Windows Live ID to use broadcast service.
What other users need – Internet Connection, any web browser like IE, Firefox, Chrome and URL of PowerPoint slideshow (which you will send them).
Please note, some PowerPoint features may not appear as in original presentation to users viewing presentation remotely using broadcast presentation feature. All transitions will be shown with fade effect. Audio, video playback and hyperlink clicks will not be viewable to remote users.