You can customize look of your Windows phone with favorite color theme. Select either of dark or light background theme as per your liking. You can also select favorite accent colour out of 10 different colors like magenta, purple, teal, lime, brown, pink, orange, blue, red, green. After color selection, different items on Windows phone interface will be displayed in selected accent colour.
Windows phone: Customize background theme color
1. From Start, press the arrow (right arrow icon) to goto application list.
2. Press Settings on the application list screen.
3. Then select Theme option on Settings screen.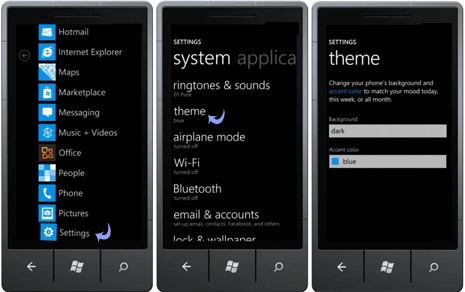 4. On Theme settings screen, you can select either of dark or light background theme option.
5. To change accent color, select color of your choice from accent color option.
In few simple steps you can customize look and user interface color of your Windows phone.