Are you bored of default background wallpaper image on your ipad? Get a refreshing change by selecting a different image as ipad background wallpaper. You can also transfer personal photos from digital camera and then use either image as background wallpaper on ipad for more personalized touch.
Use different image as iPad background wallpaper
1. Tap on 'Settings' icon on the iPad home screen.
2. Tap to select 'Brightness & Wallpaper' option on the left column on settings screen.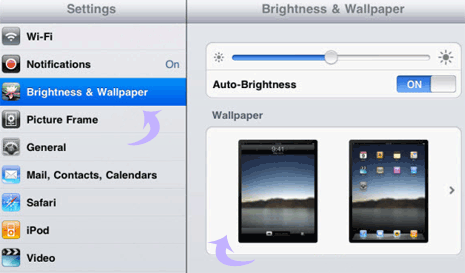 3. Then tap on image displayed under 'wallpaper' on the right column of Brightness & Wallpaper screen.
Then you can choose from collection of default wallpapers that come with iPad. Alternatively, you can select own image as wallpaper from the 'saved photos folder'. You can also download cool iPad wallpapers and use them as background image on iPad.