Tracking of physical location secretly by iOS devices like iPhone, iPad caused huge controversy. Apple released iOS software update for possible fix to this issue. Some users may have liked the idea of tracking and sharing physical location as they use their iOS devices including iPhone and iPad. This has been there for sometime but recently shot to fame due to tracking controversy. There are number of free apps that allows you to track and share your physical location details with your friends and family members privately. With strict privacy and sharing settings – you for sure will like to use and share your location details with people you know.
1. Footprints app for automatic location tracking
Footprints app is a free application that is has simple and neat interface. It automatically and privately tracks your location and allows you to share it with friends in real time. With Footprints you can also Check-in to Facebook Places and map where your Facebook friends are checked in.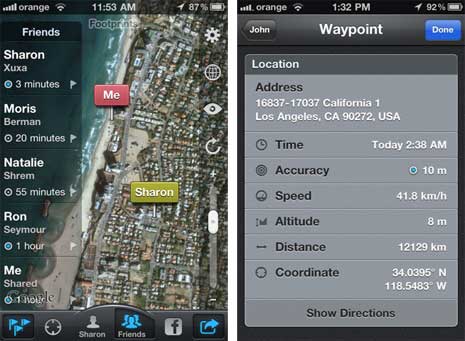 1. It runs in the background without eating up too much battery power.
2. It allows you to share current location manually at any time.
3. Parental control feature activates location sharing at all times without option to disable it.
4. You can share your tracked waypoints by granting specific permission like share your last 10 waypoints with a friend for two days.
2. HeyWay location tracking service
HeyWay free app (hey where are you is supported by advertisements) allows you to track current location and view that of your friends and colleagues. It uses Apple's new Push Notification Service, hence location notification for your friend and your own location are delivered even when application is not running.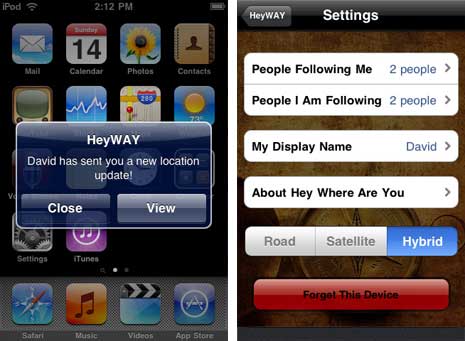 1. Get the actual location of your family member, child or friend.
2. Very useful for business people who travel small distances to meet clients.
3. Enforces strict sharing and privacy settings while sharing your physical location.
3. Google Latitude service for location tracking
Google Latitude app from Google allows you to use goodness of location tracking through Google Latitude service on your iphone and ipad devices. You can easily share where you are and see each other on a map using this application.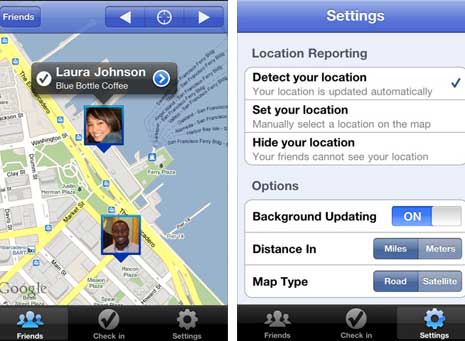 1. See all your friends on the map and find the one nearest to you.
2. Unlock offers from big brands at your location with check-in service.
3. Ensure privacy while sharing location with share only city-level location, hide your location or turn off background updating at any time options.