Is your Apple device like iPhone, iPad, iPod touch – lost or gone missing? You could easily track missing Apple device using paid Mobile Me service. Now this service is free for users using latest iOS 4.2 (and above) software update on their Apple devices. You can easily setup free 'Find My iPhone' service and track missing iPad, iPhone or iPod touch device.
Setup & use free 'Find My iPhone' service
1. Make sure your Apple device has latest iOS 4.2 (or above) software update. iPhone 4, iPad, or 4th generation iPod touch owners can use Find My iPhone for free with their Apple ID.
2. Then tap Settings icon and choose Mail > Contacts > Calendars.
3. Now tap the Add Account button and select MobileMe.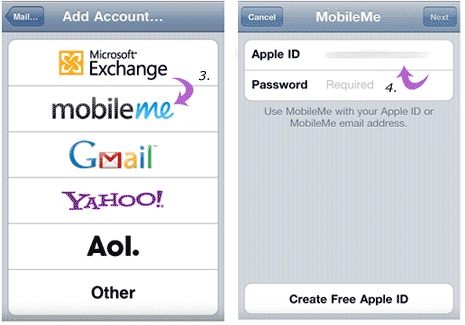 4. Then enter your Apple ID and password. If you do not have Apple ID, you can create it for free. If you are already a MobileMe subscriber, enter your me.com or mac.com email address and password.
5. Next step involves verification of the account. Click on Verify Now button in verification email message in your inbox.
6. On Mobile Me screen, select ON for 'Find My iPhone'. Then tap 'Allow' when the Find My iPhone message appears at the bottom.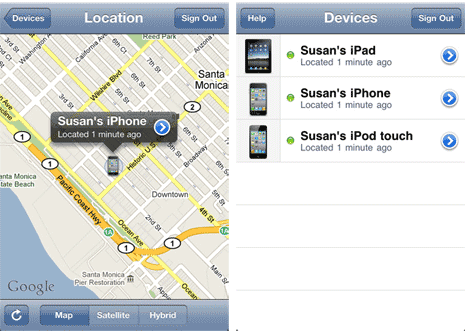 After setup, goto me.com website to see your iPhone on a map, display a message or set a passcode lock for your Apple device. Download Find My iPhone app from iTunes store for free to track location of your Apple device easily (as seen in screenshots above).