Do you find clicking sound while typing on Apple iPad irritating? You can easily get over this annoying click sound on iPad by disabling 'Keyboard click' sound option. Disable this feature under settings to enjoy mute sound-less typing on your ipad device.
Disable clicking sound on iPad keyboard
1. Goto 'Settings' on the iPad home screen.
2. Then goto 'General' option on the left side of settings screen.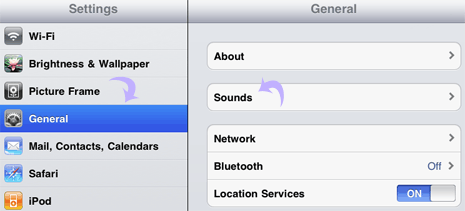 3. Select 'Sounds' & then chose OFF option next to 'Keyboard Clicks' on the next screen. From now on, you will not hear any clicking sound while typing on iPad. You can enable it back, if you love hearing clicking sound.