Internet Explorer browser uses in-built 'view source' program by default for displaying webpage's HTML and other source code details. While the default viewer is neat and displays webpage source in an organized format – you can still switch to a different program application for viewing source contents of any webpage being viewed in Internet Explorer. This option is handy for users who need to constantly check for source code details of webpages.
Use different 'view source' program application in IE
1. Open Internet Explorer on your computer. Then goto Tools > Developer Tools option or press F12 shortcut key to open Developers Tools window.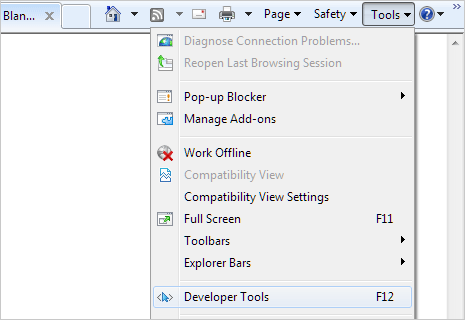 2. In the Developers Tools window, goto top menu and click on File option. The point to 'Customize Internet Explorer View Source' option to view available viewer application programs for webpage's source code.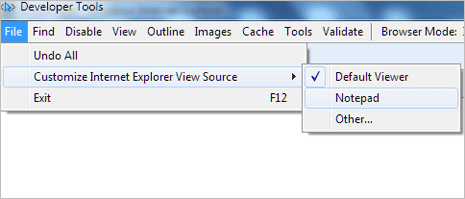 3. By default, the 'default viewer' option is selected. You can change the viewer application to Notepad by selecting 'Notepad' option. If you have installed some other source code viewer program on your computer, select the Other option and then browse to select EXE file of that source code viewer program.
From now on, if you right click on any webpage and click 'View Source' option – the code of that webpage will open in selected viewer program instead of default viewer of Internet Explorer. You can easily revert back to default source code viewer, by selecting 'default viewer' option again.
Video: Change default 'View Source' app in IE