Norton DNS is a free DNS service for non-commercial use. It allows faster web browsing as a result of quicker resolving of website URLs into their respective IP addresses. You do not need to install any software to setup Norton DNS on the computer. Just change network settings to use Norton DNS IP addresses on Windows or MAC systems.
Online check to confirm if Norton DNS is working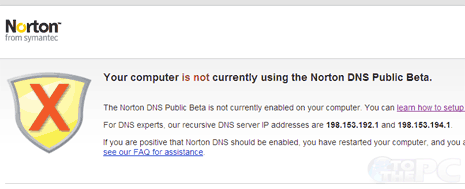 After setting up Norton DNS, you may want to check if Norton DNS is working fine on the computer. Just goto setup.nortondns.com website. Red cross image indicate Norton DNS is not being used on the PC, while green check mark indicate Norton DNS is working fine.
Check Norton DNS status dashboard online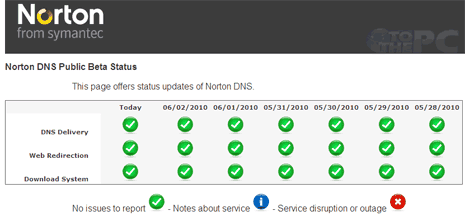 Besides checking on Norton DNS setup, you can also perform online check if various aspects of Norton DNS service are working including: DNS Delivery, Web Redirection and Download System. Goto status.nortondns.com to access dashboard displaying current status of Norton DNS service.