You can easily connect to the internet using wifi connection your BlackBerry Playbook device. It can establish connection with wifi network at your home or at public places like hotels, airports, shops and allows your to surf websites and online applications on Playbook tablet. Once you make wifi connection, it saves network details and automatically establish connection next time when you are within the range of that wifi network.
Connec to wifi network for internet on Playbook
1. On Playbook status bar tap Settings and then wifi icon. It will show list of available wifi networks.

2. Then tap to select wifi network to which you want to establish connection. Enter the password, if you get prompt for the same.
You can select Open Networks option from the Networks drop down list to view available networks that do not require a password.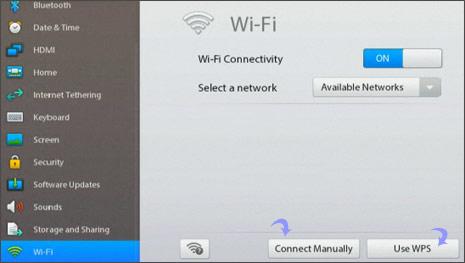 3. Then tap Connect to make connection with specific wifi network to browse internet on BlackBerry Playbook device.
Manually connect to wifi network on Playbook
1. You can connect to any hidden wifi network and save its settings using connect manually option. On the Status bar tap Settings > wifi > Connect Manually icon.
2. Then type the network name. Select hidden SSID, if the network is hidden. Also select the security type settings as per requirement.
3. Then tap Connect for making connection with specified wifi network. You can simply tap save to save wifi connection setting without making active connection (which you can make at later time).
Connect using wifi protected setup on Playbook
You can also established secured wifi connection setup for your BlackBerry Playbook device. To get started tap Settings > Wi-Fi > Use WPS > Enter PIN into Router> Start. On the administration screen for your Wi-Fi router, type the PIN displayed for making active but secured wifi connection.