Do you want to control Microsoft PowerPoint presentation on laptop from Windows phone? It is possible using Presentation Companion 1.0 for Microsoft PowerPoint 2010 or Microsoft PowerPoint 2007 64-bit Edition. It allows you to use Microsoft Office PowerPoint Mobile on your Windows phone to control a PowerPoint presentation on your laptop.
Presentation Companion for Microsoft PowerPoint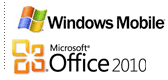 You can download Presentation Companion and install on your laptop. It will work together with Presentation Companion feature in Microsoft Office Mobile 2010 (on your Windows phone).
Besides controlling presentation you can view speaker notes on your Windows phone as you control the presentation. Make sure you have Microsoft Office Mobile 2010 on your mobile phone.