Are you bored of default look of Microsoft Word documents? You can give fresh look to Word documents by changing style of different elements. Manually changing color, text size, font type etc will take lot of time and effort. You can quickly change style with greater perfection using pre-defined "Style Sets" in Microsoft Word 2010 program.
Change Style Set of MS Word document
1. Open or write new Word document in MS Word 2010 program.
2. Goto 'Change Styles' option and then point to 'Style Set' option.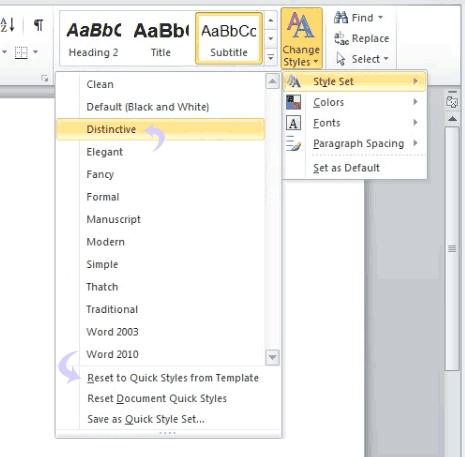 3. Select any pre-defined style among: distinctive, elegant, modern, fancy, simple, format and more.
You can always change or revert back to default style using available options. Besides using pre-defined style sets, you can manually play around with different style elements including: font type, size, color, paragraph alignment, spacing and more.