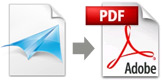 XPS stands for XML Paper Specification technology from Microsoft. We have already seen how to create and edit XPS files in Microsoft Office 2007. There are number of ways to convert XPS files to PDF format. Majority of them asks you to buy converter software for conversion. Following procedure allows you to convert XPS to PDF format for FREE.
Convert XPS file into PDF for free
1. Open XPS file using free XPS viewer plugin from Microsoft. You can also use XPS addon for Microsoft Office 2007 application.
2. Then download Cute PDF Writer and install it to serve as your virtual printer. Again, this software is also free for download and use.
3. Now open XPS file on the computer. Goto File > Print, select Cute PDF printer from list of printers and click print. You will get prompt to save the file in PDF format before the print.
Using above procedure your XPS file will be saved as PDF file when you attempt to print using Cute PDF as virtual printer. Simple and easy, isn't it?