Making an animated LED Sign board can take hours in an advanced graphic or image software. However with free online tool 'Sigbot' you can make this in less than a minute with only 3 Clicks. The output is refined and can be saved in Gif format or hosted directly on Free Image hosting website Imageshack.

Besides it also provide three size options among: small, medium and large. Whole process involves 3 simple clicks to make an animated LED Sign Board. Here goes:
1. Click on the text box and enter the text for the LED Sing board.
2. Click to select width of sign board among: small, medium and large.
3. Click on 'generate sign' button and it is all done.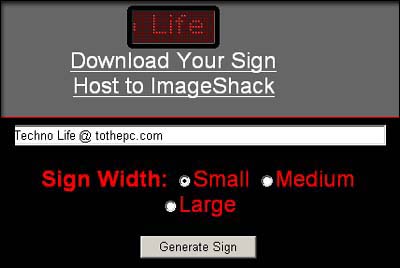 SignBot: Click here to make your animated LED Sign board 
You can save the output in gif format on your computer or host image free at Imageshack website. Besides Signbot, here are some other useful tools to play with:
Few real good tools to play around. Check out more Image Tools here. Enjoy your weekend!