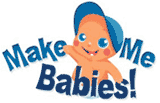 Couples spend hours discussing what their baby would look like. Will the baby look more like her mom or dad?
Want to find out possible answer before the actual baby or even before the actual marriage. Well, head over to 'MakeMeBabies'.
It can help you visualize your future baby with few mouse clicks. You only need photos of the couple faces to generate a quality picture of their 'future' baby. It morphs two photos to create resultant photo of 'future' baby.

It also allow making pictures of babies by taking only one photograph and mixing it with a stock photo of a celebrity or a member of a dating site, depending on the application.
Besides you can have fun on the website by mixing photos of different celebrities. Ever wondered, how a baby of Paris Hilton and Brad Pitt look like? Checkout MakeMeBabies for some virtual fun.