Besides uploading and downloading photos from Facebook, a unique avatar photo is a must routine for any Facebook user. With limited image editing skills of majority of users, even such "not so difficult" task can become difficult at times. You can easily upload any image and edit it to fit as perfect avatar photo on your Facebook profile using following options.
I. Manual avatar creation at Facebook website
1. Login into your Facebook account.
2. Hover and click over avatar image on your profile.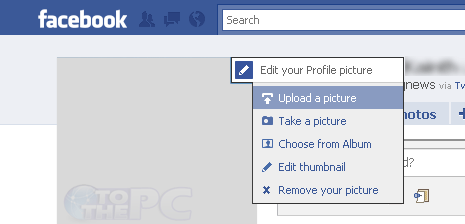 3. Then click to select either of option: upload a picture, take a picture, chose from album.
4. Select part of image to be displayed in final avatar image.
This is most easy and quick way to create Facebook avatar photo. However, if you want to explore other ways to make avatar photo – then checkout following online tools.
II. MyPictr – quick avatar creation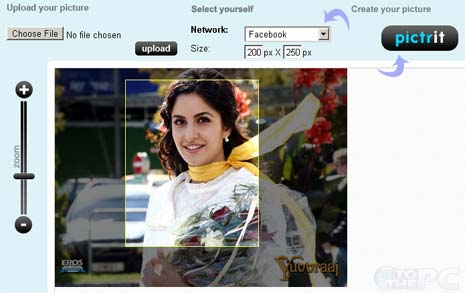 MyPictr website allow quick and easy creation of avatar image for majority of social networking websites. To get started, click "Choose File" button and then click "Upload" button. Once uploaded image is displayed in online editor, select "Facebook" option from drop down box.
Adjust image by zoom in or out using slider on left side and click "MyPictr" button to download your final avatar image. Later you can upload avatar image on Facebook profile as explained in manual method above.
III. Pimp My Profizzle – add effects
Pimp My Profizzle is an easy to use online tool for creating quick avatar photos for Facebook profile. At the bottom of webpage you can share created avatar image using PMP Facebook application or directly publish on your wall or share with Facebook friends.
1. Open Pimp My Profizzle website. Then select photo sourceand upload to website. You can select image stored on PC, online or grab screenshot from webcam.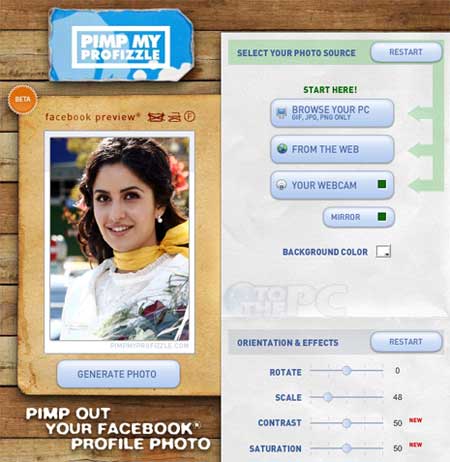 2. Adjust uploaded image by making changes in zoom in / out, rotation, contrast and saturation of the photo using options under "orientation & effects".
3. You can also dress up avatar image using either of jazzy border at top right part. Once you are done with avatar making, share it easily with Facebook friends using options at the bottom.
To add more jazz to your avatar image, how about creating 3D avatar images for your social networking profile. Option galore, be creative!