Google is known for simple interface and colorful logo. While Google constantly plays around with display interface, its logo has remained same for a while now. Do you want to create Google font style logo with customized text? You an easily generate Google like logo online in few simple clicks.
Generate Google like logo image online
1. Open Funny Logo website on your computer.
2. Type text for the logo. For example: tothepc
3. Click to select 'Google Style' option.
4. Then click 'Create my Search engine'. On the next screen, right click logo image and then use save picture as option to download logo image. For course, this is all for fun in Google Style.
Use Google logo generator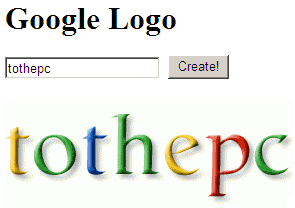 Goto Google Logo Generator and enter text for the logo image. Click create button to get your own Google style and look logo. Beside these, there are number of other online generator tools to create true web 2.0 logos with ease.