Every user has different preferences while browsing internet in terms of settings, bookmarks, extensions and so on. Ideally, you would create separate user account in Windows for each person accessing the same computer. With ChromeDeck each user can experience customized browsing while using same Windows username by creating separate profile for Google Chrome browser.
Create & Manage user profiles for Google Chrome
1. Grab ChromeDeck, a Google Chrome user profile helper program.
2. Click Create user profile to add new user profile.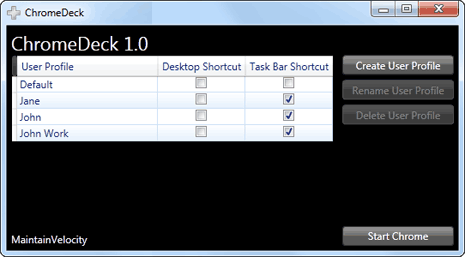 3. Select specific user profile and click 'Start Chrome' button for customized browsing in Google Chrome browser.
You can create as many different user profiles for Google Chrome. It also allows you to edit and rename profile names. For sure one easy way for customized usage of Google Chrome in multi-user environment. [via Lifehacker]