Over the years we have seen number of 3rd party sources to download and use cool Blogger templates. Finally, Blogger itself is getting into for easy customization of Blogger templates. It has launched official 'Blogger template designer' tool for quick creation of customized Blogger templates. Now Blogger users can create own Blogger template look as per requirement using this online feature tool.
Create own Blogger templates online
1. Goto http://draft.blogger.com & login into your Blogger account.

2. Click 'Layout' button & then click 'Template Designer' option.
3. Get set to customize: template, layout, background and lot more.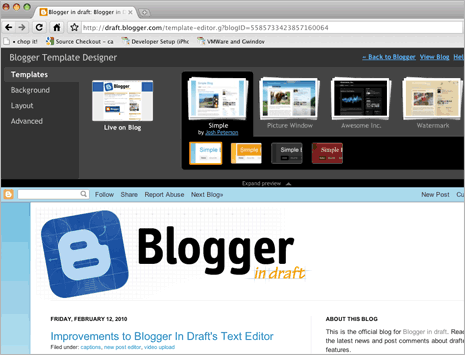 There are over 15 new highly-customizable templates, split into four families: Simple, Picture Window, Awesome Inc and Watermark. One, two and three-column layouts for each template with complete control over the size and arrangement of the columns. Also, 100s of background images and patterns from iStockphoto. [via Google blog]
Blogger template designer Video Demo
In few simple clicks, you can create customized and colorful Blogger template for your blog without having to mess around with manual coding.