Ideally when you delete Internet history files and cookies data – Adobe Flash cookies are not deleted. There is complex method to delete Adobe Flash cookies and majority of web users either do not know about this or do not want to waste time perform this routine reguarly. Thankfully with web browsers upgrading, deleting Flash cookies has become easy. We have already seen quick way to delete Flash cookies in Chrome browser. Now you can do same in Internet Explorer without need to install any IE plugin or upgrade existing Internet Explorer install.
Cookies deletion possible due to Flash Player 10.3
Inability to delete flash cookies from web browser's delete cookies settings was always considered privacy concern. Adobe has finally addressdc this with release of Adobe Flash Player 10.3 beta. Necessary changes have been made in 10.3 version of Flash Player to allow users to delete Flash cookies from web browser itself.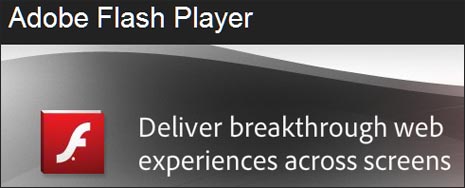 You do not need to upgrade existing Internet Explorer 8 or 9 version installed on Windows computer. However, you do need to upgrade Adobe Flash Player to 10.3 version (adobe.com/flashplayer). Stable 10.3 version will be available soon for download.
How to remove Flash cookies in Internet Explorer
1. Make sure you have installed Adobe Flash player 10.3 version (beta or stable from adobe.com/flashplayer) on your computer. Without this, you cannot use Internet Explorer to remove Flash cookies.
2. Open Internet Explorer and goto Tools > Safety > Delete Browsing History. This will clear existing history files, http cookies and flash cookies from your computer.
Test Flash cookies deletion in Internet Explorer
Not sure if deleting Internet Explorer history is also removing Flash cookies? Well, you can easily test this by creating a dummy Flash cookie in Internet Explorer browser.
1. Open this webpage and type any text in box provided. Then click Save button to save Flash cookie for the typed text.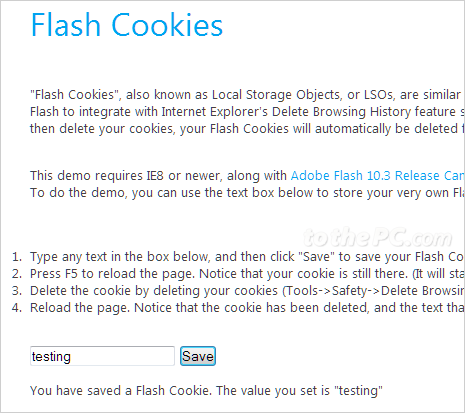 2. To check if cookie is still there, press F5 or refresh button in Internet Explorer. It will still be listed on the webpage.
3. Now goto Tools > Safety > Delete Browsing History in IE to delete internet history and cookies.
4. Now refresh and reload webpage by pressing F5 key. If the saved text is gone, then Flash cookie has been deleted. If text is still there, Flash cookie in not deleted – in this case make sure you are using IE 8 / 9 or above and Adobe Flash Player version 10.3 or above. [via IE blog]