Windows 7 operating system has an integrated Search feature. It allows you to search for files and folders on your Windows 7 computer. To use search feature on Windows 7, you can use search box in the start menu or at top right part of explorer window(s). Majority of users do not use search feature on Windows 7 and may want to disable it. You can easily turn off and remove search functionality on Windows 7 using following procedure.
Remove Search feature on Windows 7 PC
1. Click on Start > Control Panel. You should see Control Panel window open with lot of icons.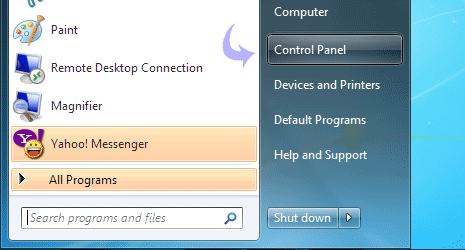 2. Now click 'programs and features' icon in the control panel window.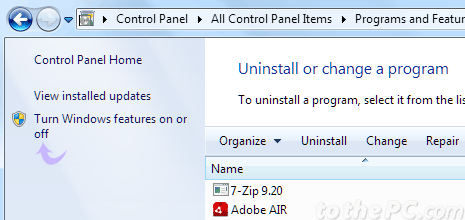 3. Then click 'turn windows features on or off' option on the left sidebar. Windows features dialog box should appear.
4. Scroll down the list and look for 'Windows Search'. Click to uncheck (no tick) on Windows Search option. You will get confirmation screen regarding you selection, click Yes button to continue.
5. Then click OK button on Windows Features dialog box. You will get prompt to restart Windows for changes to take effect.
Once you restart / reboot Windows 7 system, there will be no search box at the start menu or at the top right side of Windows explorer for using Windows search feature, as we have disabled it now. You can enable it back by checking option in Windows Search dialog box using same procedure, as explained above.