Majority of users prefer to move and click using mouse on Windows system. You can do things even quickly while performing basic routines using function 'F'  keys keyboard shortcuts. For the start, you need to memorize which function key perform which action on your Windows PC. Once you know few function key shortcuts, you should be all set for quick Windows computing with single press of function keys.
F1 for Help
Pressing F1 key should launch associated help database. If you are on Window's desktop, F1 key press will open Windows Help and Support center.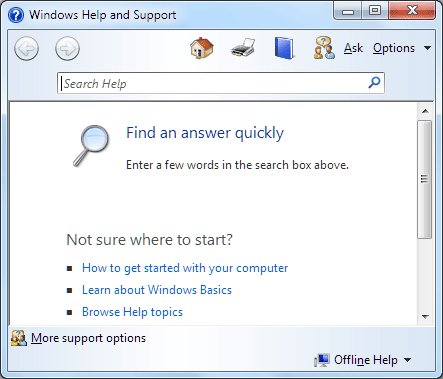 However, while using specific application – F1 will open respective help resource. For example: active Tweetdeck will open support.tweetdeck.com website on pressing F1 key.
F2 to Rename
Select and highlight file / folder and press F2 key to quickly rename file. You can also use F2 keyboard shortcut to rename multiple files in batch mode. Just select multiple files using mouse and press F2 to rename selected files in sequential manner.
F3 to Search

Pressing F3 key will launch search dialog box when on Window's desktop. It will pop-up search bar when using a web browser like Internet Explorer, Google Chrome and so on.
F4 to select address bar in Explorer

Pressing F4 key toggle and highlight control on the address bar of Windows Explorer. It can also be used to hightlight address bar in web browser to quickly type a different website URL.
F5 to Refresh
Quickly refresh to view updated contents of a folder or items on the Windows desktop by pressing F5 key.
F6 toggle elements in active window
Press F6 to toggle and cycle through available elements in the current window. Keep pressing F6 till control comes on element of your choice for further action.
F10 to view Menu bar

By default menu bar is hidden in Windows Explorer on Windows 7 PC. It is also hidden in modern web browsers like Google Chrome, Firefox and Internet Explorer. Press F10 to activate and view Menu bar for sometime to access: File, Edit, View, Tools and Help options.
F11 to go Full Screen
Pressing F11 toggles current window into full screen mode. It removes / hides top menu bar and bottom status bar in full screen mode resulting into more screen area. F11 shortcut works in web browsers and explorer windows.
If you are a Windows XP user, then checkout interesting list of keyboard shortcuts for XP. Also discover keyboard shortcuts of specific software that you may be using regularly on Windows computer.