Do you need a clock showing time of different countries? This may be required if you have relatives living abroad or you work with people from other countries. There are different ways to implement this depending on the operating system being used. End result displays time of different countries in a pop-up window at system clock area.
For Windows XP users there is no in-built or default option to implement multiple clocks showing time of different countries. However, you can easily add this feature by installing Microsoft Power Toy utility Microsoft Time Zone. After install, you can show time of any country. By default it shows time of London, Los Angeles, New York, New Delhi and Sydney.
Windows Vista users don't need to install anything and easily implement using in-built feature. Just right click on the clock and then click on Adjust Date/Time option.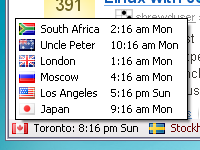 Now click on the Additional Clocks tab to add two additional time zones to display when you mouse-over the clock.
Firefox users can add this feature by installing FoxClocks extension. It has loads of option to customize display of multiple clocks. You can even see colorful country flags with respective time. So, if you need multiple clocks for different countries – above are options, take your pick!