Adobe Photoshop CS5 was released few days back with all new features. Newer version has lot of features like content aware filter, better edge detection, wet paint, puppet tool, patch match, brush Stroke effect and many more. Now trial version Adobe Photoshop CS5 is available for free download.
Download Adobe CS5 free trial
Click here to access Adobe download page for downloading either of CS5 product including: PhotoShop, Dreamweaver, InDesign, Premiere, After Effects. Alternatively, click here to download Adobe Photoshop CS5 trial software. You can use the downloaded software for 30 days period.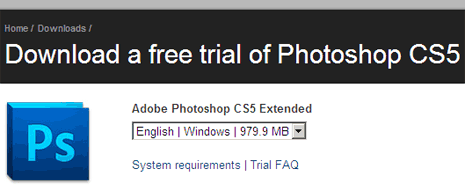 There is also option to order trial DVD which can be converted into full version, if you purchase the product – more details. Software download files are big in size, will take some time to download even on high speed connection. [Thanks Rahul]. Checkout new features of Adobe Photoshop CS5 software release.