LiveJournal is a popular web service to create free blogs and journals. If you are an active Live Journal user and want to safe keep your blog offline, then checkout LJColligo. It is a free backup tool for Live Journal blogs. It allows you to download all blog entries and comments from your LiveJournal Blog. It grabs content as XML and then generates static HTML content.
Backup Live Journal blog with LJColligo
1. Download LJColligo LiveJournal blog backup tool.
2. Install & launch the program for use.
3. Enter your login details & select output directory on PC.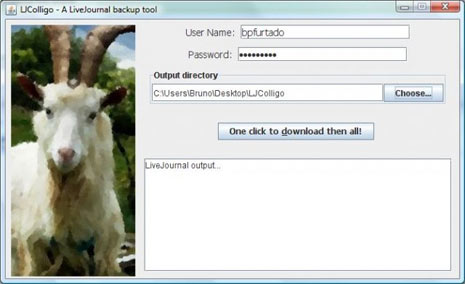 4. Click "One click to download them all" button to start download / backup process. Simple and very easy way to backup contents of any LiveJournal blog.