Norton has released Norton Antivirus and Norton Internet Security 2010 for download and use. As expected, it has loads of improvements and enhancements. Trial version can be downloaded from Norton website for free use upto 14 days. It is faster, consumes less memory than previous versions and works on newer Windows 7 operating system.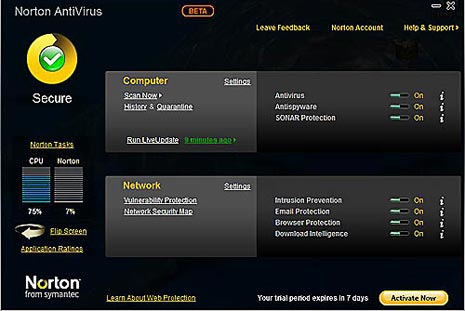 "… This year the Norton Protection System has been enhanced and our new SONAR 2 technology to stop new and unknown threats. To protect your PC's performance, we have added the Norton Performance System." Other features include:
1. Prevents attack from bots and other web based attacks.
2. Regular minute by minute updates from 5 to 15 minutes.
3. Detects & removes spyware, viruses, trojans and worms.
4. Protects newer Windows 7 operating system.
5. Silently updates in the background without sending prompts.
Download Norton Antivirus 2010 and Norton Internet Security 2010 beta release. It comes with activation key and is valid for 14days of full use. You need to register at Norton to download the product.