Digital Photo Frame is a cool way to share and view personal photos without too much computing fuss. At times, it can be difficult dealing with download of new photos on a digital photo frame. If you use Flickr website to host photos and love to see Flickr photo on your digital photo frame – then checkout Flickr2Frame application.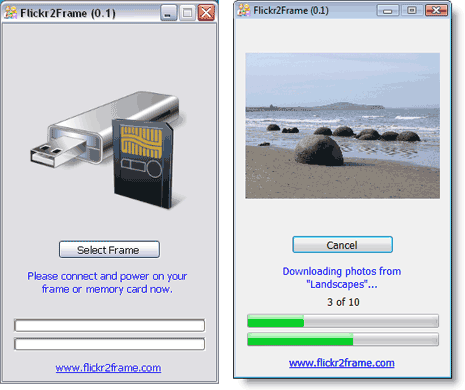 It is a free application that allows easy download of Flickr photos to your digital photo frame. You can connect USB cable connecting digital frame and computer for quick transfer. This application also works with memory cards, USB memory sticks, physical and external hard drives.
You can test this application for sample set of Flickr photos. Double click ConfigFrame.exe file and then click "Use Flickr2Frame Sample Values" button. It will auto-fill settings to download sample Flickr photos. Download Flickr2Frame to download Flickr photos to your digital photo frame. Supported photo frames include: GenericUSB01, Philips01 and Philips02.