While designing and testing web projects we often need sample or dummy banners. For example, instead of showing actual live ad block of 468X60 you may want to use a dummy banner of same size during testing phase. There are number of online tools to generate dummy sample banners of different sizes as per requirements.
1. Random Image Generator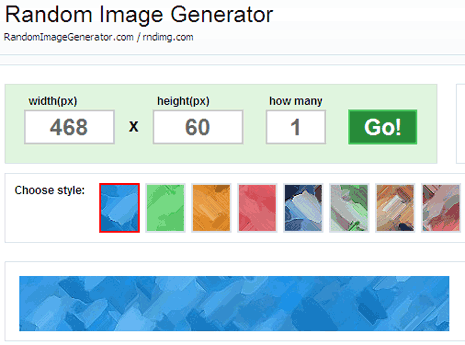 Random Image Generator is very simple tool to generate dummy yet colorful banners of different sizes. Just enter the width – height dimensions and number of banners you need. Click to select colorful style and hit the GO button to grab dummy stylish banner for your project.
2. Dynamic Dummy Image Generator

If you prefer pain old banners with proper marking of banner size then checkout Dummy Image Generator. You can directly access URL for specific banner size. For example:
Goto http://dummyimage.com/640×480 for 640X480 size banner
Goto http://dummyimage.com/468X60 for 468X60 size banner
3. More Resources for dummy generators
Besides above image generators, there are number of tips and tricks, plugins and tools to generate dummy data, text and images. Checkout detailed listing of dummy generators using different apps and programs.