RSS feed concept is an easy way to share information. Majority of blogs and websites have dedicated RSS feed for users to able to track and view latest updates. Ever wanted to generate and save RSS feed content in PDF file format? You can easily extract contents from RSS feed or webpage and save them as PDF file using free 'Your Own Newsmaker' utility.
Generate PDF file from RSS feed
1. Download Your Own Newsmaker tool [source]. Unzip & double click to launch this portable tool.
2. Goto Actions > Add source. Then add RSS feed URL of the website in the pop-up window. You also simply add any website or webpage URL to generate PDF from its content.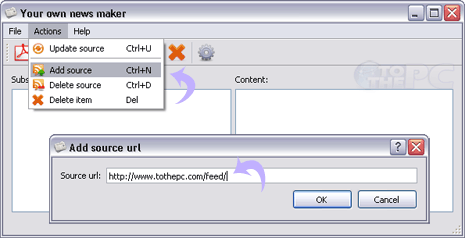 3. Then goto Actions > Update source to view RSS feed contents in the right window.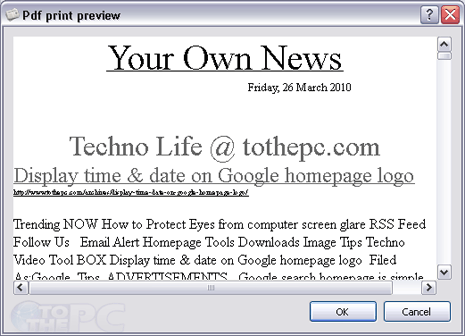 4. Goto File > Make PDF to preview, generate and save PDF file containing RSS feed content. You can also generate fb2 file from RSS feed content using File > Make fb2 option. For sure one dead simple way for RSS to PDF conversion!