PDF is a popular document format for sharing information on the internet. You need a special software to open and view PDF files. A PDF file can contain many pages with text, weblinks and images. You can easily see such basic attributes or properties of a PDF file using free utility "PDF Analyser".
View PDF document property attributes
1. Download PDF Analyser utility.
2. Install the program & launch for use.
3. Select folder & PDF file from explorer window on the left.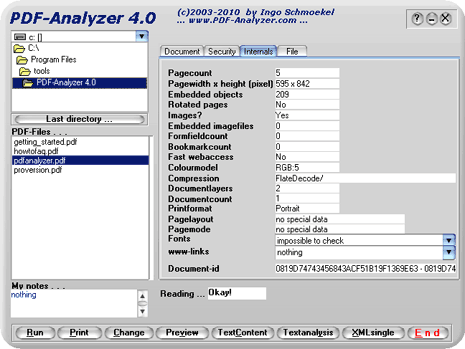 4. You can click different tabs to see details PDF properties like document title, password protections, creation date, page number, images and much more.
You can also extract text from select PDF file by clicking "Text Content" button at the bottom. This utility only allows you to view PDF properties, you can use PDF Info utility to edit PDF file attributes or properties.