Zoho has been healthy competitor to Google Docs for providing rich online Word processing and other features. It has an online service "Zoho Challenge" that is ideal for schools, teachers, coaching centers and organizations. It allows you to create online (question & answer) tests with different type of questions. Any specified user(s) can take custom test and help you evaluate their perform based on test results.
Add questions & assign Test to users
1. Goto http://challenge.zoho.com and login either using either your Google, Yahoo, Facebook or Zoho account.
2. If you are first time user, you will get prompt to select username like http://challenge.zoho.com/username
3. Then click "Question Banks" tab to create a question bank with your questions. As seen in screenshot below, you can add different type of questions like: multiple choice, true / false, fill in blanks and descriptive answers.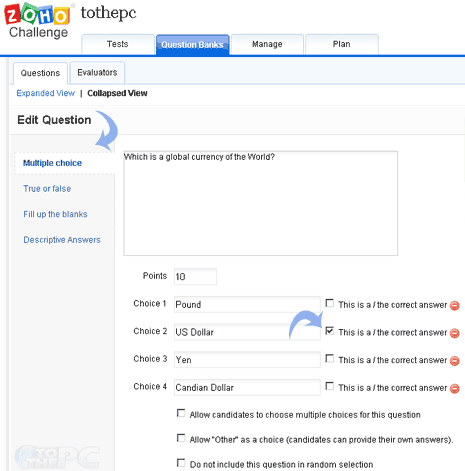 4. Add as many questions of different topics to one or more question banks.
5. Once you have created questions bank, you can add specific questions to different tests. Click "Tests" tab and add specific questions to your test.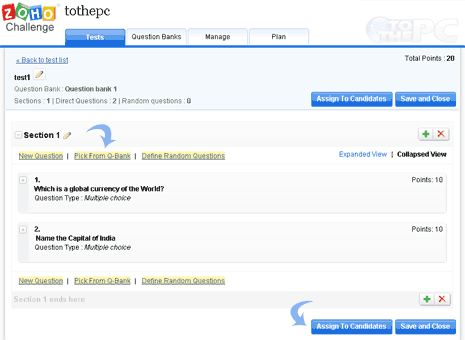 6. Then click "Assign test", by default test will be "open test" – anyone can visit http://challenge.zoho.com/username to take test. You can capture answering users' email ID and name. It also has option to only allow test through Zoho login.
As users take online test, you will begin to see results of different respondents. Free edition of Zoho Challenge has restrictions on amount of test, users, attachment size (click "Plan" tab to view details). Still, it is good enough for basic evaluation of small group of people without too much hassle.
Also, with option to upgrade and organization can very well afford pro version with lot of additional features. With so many options, it can overwhelm a new user but one should feel easy creating and assigning online tests after spending some time using the interface.