Microsoft Office PowerPoint 2010 application has improved video embedding and editing functionality. Unlike previous versions of PowerPoint, there is no need to rely on external software to able to embed and display videos in PowerPoint Slideshows. You can easily embed videos using in-built functionality of newer PowerPoint 2010 program.
Insert & embed videos in PowerPoint 2010

1. Open Microsoft PowerPoint 2010 program.
2. Click on Insert tab and then click Video option.
3. To insert video from web site, click 'Video from website' option. Use 'Video from file' option to insert video from your files stored on the computer.

Whenever a video is selected, tools format and playback tabs will appear providing further option for video editing and embedding. If you have embedded video from specific website, live internet connection is required for video playback during PowerPoint slideshow presentation.
Trim & edit videos in PowerPoint 2010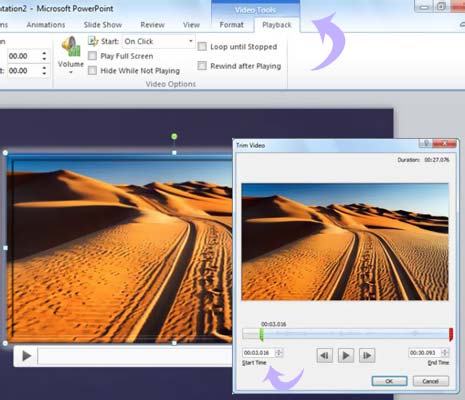 Once you have inserted video using above procedure on PowerPoint slideshow. Click and drag on the embeded video and let audience see only part of video that you want. You can move slider to select the start and end time of the video (see screenshot).
Primarily PowerPoint 2010 support audio and video formats like: WMV, WMA, and MP3. You can add support for additional video formats like: DivX, MOV, and H. 264 by installing respective codecs.