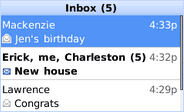 Google has introduced Gmail for mobile version 2.0 for J2ME-supported and BlackBerry phones. Focus of this version has been faster access and more reliability.
As pointed by Gmail Mobile Blog"… We rearchitected the entire client to push all the processing to the background, greatly improve the client-side caching scheme and optimize every bottleneck piece of code we came across." It features:
Overall performance & speed improvement.
Multiple accounts management to switch Gmail & Google Apps a/c.
Multiple mobile email drafts saving and sending.
Powerful & more easy to use shortcut keys.
Basic offline support to save stuff when no connected to internet.
Gmail for mobile 2.0 is available in over 35 languages now. Go to m.google.com/mail in your mobile browser to download the new Gmail for mobile for your phone. See this video for more details.