Gmail has always focused on labels rather than folders, while Yahoo Mail always had folders for easy management of emails. Gmail has just added new feature that makes label work more like folders. You can select any email message and place in under specific label (or folder) in gmail. With new feature you can use Labels as labels and labels as folders.
HOW TO USE FOLDERS AKA LABELS?
Check or tick mark any email in your Gmail inbox and click on 'Move to' button – then click on any existing label or create a new label. Now if you want to use labels as labels, then check or tick any email – click on labels button and click to check multiple labels you wish to assign to a specific email message.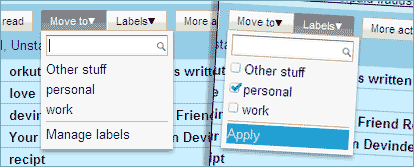 To see different emails under specific label, you can click on 'Move To' > Manage labels. This new change will make Gmail more like home for Yahoo Mail users who are so use to moving emails in folders. Now we can do that same in Gmail with label feature – use them as labels or folders, take your pick!