If you use Google Docs extensively besides Gmail email service, you may want quicker access to Google Docs files within Gmail inbox. You can easily search Google Docs and Sites content inside Gmail interface using "Apps Search" labs feature. This allows you to view Google Docs and Sites in search results besides your email messages.
Enable 'Apps Search' to find Google Docs in Gmail
1. Login into Gmail account and click Settings at the top right. Then click on 'Labs' tab on settings page.

2. Click to select 'enable' next to 'Apps Search' labs feature.
3. Then click 'save changes' button at the bottom. After reloading, Gmail search button will now read as "Search Mail and Docs".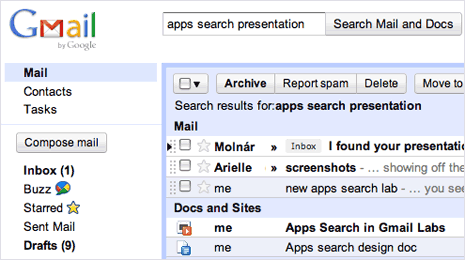 4. Type any search keyword to view relevant results from email messages and contents of Google Docs (and Sites) within Gmail interface.
It also support "did you mean" feature, incase you made mistake typing relevant keyword for the search. Using this feature, Google Docs is just click away in Gmail. [via Gmail blog]