Gmail priority inbox feature organize email messages into different sections as per message importance. Email messages or items are sorted into sections like: Important and unread, Important, Starred and Everything else. You can customize further by customizing or changing number of email message items to be displayed under each section in the Priority inbox.
Customize number of emails in Priority Inbox sections
1. Open your Gmail account and click 'settings' link at top right.
2. On the settings page, click 'Priority Inbox' tab to access respective options.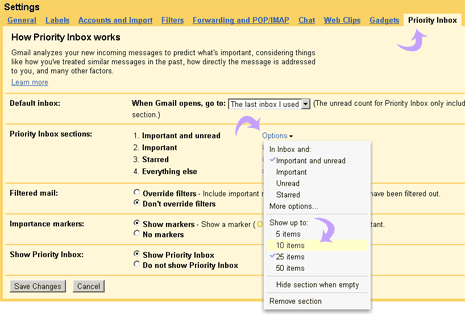 3. Click 'Options' link next to either of 'Priority Inbox sections'.
4. Then click to select "Show up to" 5, 10, 25, 50 items.
Based on number of items selection for each section, priority inbox will display specific number of email messages in each section for more customized look and usage. You can also hide or remove specific sections from priority inbox  in Gmail.