At any given time there are number of software installed on the computer. Checking for latest version of each software can be time consuming  (& boring!) process .
You can automate this process and complete the whole process of checking latest version of software installed on your PC using small utility SUMo.
SUMo stands for Software Update Monitor. It scans system for all the installed software. It shows latest version and updates available for each software on your PC. Features include:
Automatic detection of installed software.
Detects required updates / patches for your software.
Filter / authorize Beta versions (user setting).
Ignore list : only tracks software YOU want to track.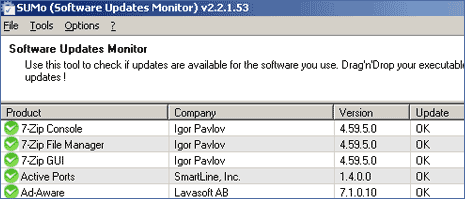 After scanning, you can click on 'get update' button – it will take you to software vendor website to download latest version of that specific software.
Download SUMo [1.2MB], very handy utility that makes process of keeping software on PC updated – a breeze involving just few simple clicks!