Twitter has buzzing fridays courtesy 'Follow Friday' concept. On fridays, Twitter user send tweets recommending few friends that other users can follow and interact. It is a cool way to discover new Twitter users and friends while you are ready to hit weekends. In case you are not getting enough Follow fridays recommendation in your Twitter timeline than head over to FollowFridays website.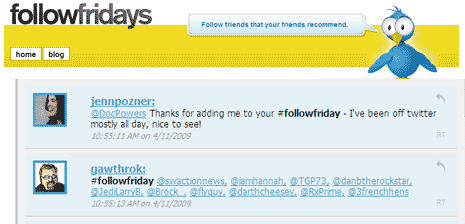 More – 10 Twitter directory for friends, apps & inspiration
It shows the constant flow of 'followfriday' tweets on the homepage. You can keep an eye on those 'FollowFriday' tweet and click through any recommended Twitter user. It also show list of Top 5 most Recommended Twitter users for the previous Friday and Top 5 most active Endorsers for the previous Friday.
Head over to FollowFriday to see who is recommending whom this Friday on Twitter. To make your followFriday Tweet: Just use #followfriday keyword along with recommended Twitter users profile URL!