Do you have bunch of BIN CD files that should be extracted and converted? You can easily convert BIN into ISO image files using free BIN to ISO converter software tools. Such conversion allows you to mount BIN files as a drive after converting into ISO format. While there are few premium and paid BIN to ISO converters – you can get this format conversion job done using either of following free conversion tools.
WinBin2Iso: free portable Bin to ISO converter
WinBin2Iso is a hassle free converter tool for quickly converting BIN files into ISO image format. Being portable, you can use it without installation and carry it anywhere in a USB pen drive.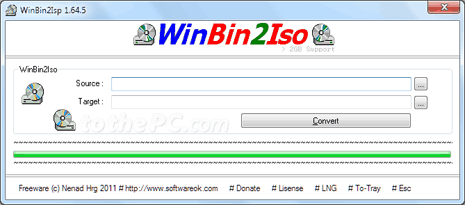 1. Download WinBin2Iso converter tool. Then extract the contents of downloaded zip file. Open folder with extracted contents and double click WinBin2Iso exe file to start the converter tool.
2. Select the Source location of the BIN file and also select Target location to save converted ISO image file.
3. Then click Convert button for conversion of BIN file into ISO image file. This free tool also support conversion of big files above 2GB size.
As of now, you can use this program in English and Deutsch languages. It also has option to minimize program to system tray using "#To-Try" button at bottom right.
Any to ISO: free version for smaller files
AnyToISO is another tool for BIN to ISO conversion. Besides this, it support number of other functionalities as it allows you to extract or convert NRG, MDF, UIF, DMG, ISZ, BIN, DAA, PDI, CDI, IMG, etc CD/DVD-ROM images to ISO format.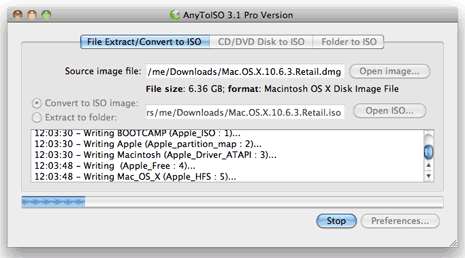 1. Download Any To ISO program. It is available for both Windows and MAC users in over 23 languages.
2. You can download either free lite version or buy full paid (premium) version. Please note: Lite version cannot deal with files greater than a regular CD size (870 MB).
3. You can create ISO from CD/DVD/Blu-ray disks and from files & folders. It integrates with Windows explorer or Apple Finder for easier usage. It also comes with command line support.