For an active Gmail user, sheer number of Contacts can be overwhelming. While there is grouping of Contacts feature for proper organization of contacts – not many use it (why? – it require more clicks!). Now you can use 'star' feature for one click organization of important Gmail Contacts in separate section called "Starred". So you can have important favorite star contacts and all other contacts for basic management of Gmail contacts.
Mark Gmail Contacts with star to group favorite ones
1. Using this feature is super easy, which is why more users are likely to use it. In your inbox, click Gmail option at top left and then click Contacts option. Then click on "My Contacts" option to see all listed contacts in your Gmail account.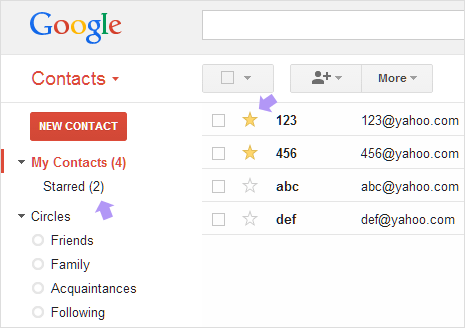 2. Click Star button next to specific contact(s). All the star marked contacts can be quickly accessed from Starred section under Contacts on left sidebar. If you are building new contacts list, you can directly add new "starred" contact by clicking new contacts button while in "starred" section.
Video: Star important Gmail Contact easily
This new star contacts feature in Gmail makes contacts management more easy without any extra fuss. Just follow simple rule, important and favorite contacts are marked with star while other contacts remain as it is. Also, you can easily access all important and favorite contacts in one glance by going to "starred" section of contacts in Gmail inbox. Can't be neater than this, your thoughts?