Grooveshark is a popular online music streaming service. You can listen to songs for free or subscribe to paid account for music listening with additional features. Ideally, you need to open web browser and then open Grooveshark website in it for music streaming. You can bypass this and enjoy Grooveshark music without opening web browser window using Grooveshark desktop application.
Download Grooveshark desktop application
It is a small application that provide web browser like Grooveshark music listening experience within desktop application window. Also, it is a portable program – just download and run the program on your computer.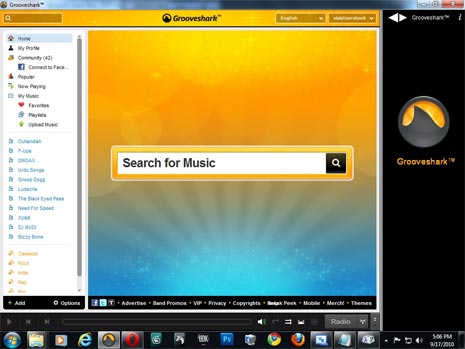 This application remove advertisements displayed to free Grooveshark users (which is illegal). If you happen to use Grooveshark on regular basis, grab this Grooveshark Desktop app for your Windows 7, Vista, XP computer (requires Microsoft. NET Framework 4 installed).
Alternatively, you can enjoy Grooveshark music on Facebook using Grooveshark app for Facebook. Also, show your Grooveshark love on your desktop screen with cool Grooveshark wallpapers.