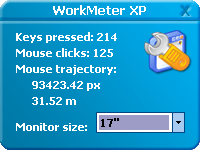 Interested in knowing number of mouse clicks and key press you have made till now? WorkMeter XP is a small utility that will measure and reveal all such stats.
It counts keyboard and mouse clicks and calculates cursor's trajectory length in pixels and meters. Calculated length depends on diagonal length so it must be set in order to achieve better accuracy.
You can run Workmeter at Window's start. It shows stats in HTML format. You can easily track past and current statistics of number of clicks and mouse press with this nifty utility.
Download WorkMeter XP [Link – 250 KB]. It works fine on Window 98, 2k and XP. Little mouse fun and see how many times you have put mouse under finger stress!