Resizing of images can take lot of time if you are dealing with loads of images. This time increases mani fold if you are resizing photos manually. Get a life and automate the process of batch resizing. Starting point will be, look for resizing option in the image viewer / editing software you are using on the computer (goto its help section and search).
If you are using PhotoShop CS3, then image resizing process will be a breeze. Open Photoshop, Click on File > Scripts > Image Processor. A new windows will pop up.
Select the folder containing images for resize process.
Select the folder for output images (resized pics).
Enter resize dimension (in px) & Click on 'Run' button.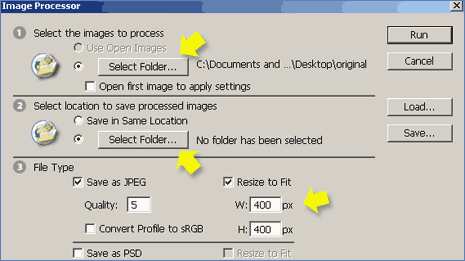 OTHER RESOURCES FOR BATCH RESIZE OF PHOTOS
Incase you do not have Photoshop on your PC – no worries. There are number of free options available to resize images on the fly.
1. Image Resizer [Link – see bottom right] is a small utility as a part of Microsoft PowerToys. Just select the photos you want to resize and will click of button its all done.
2. Picture Tray is a small utility to resize images in batch mode. This utility if all free and supports drag N drop of images.
3. Fotosizer is a free batch image resizer tool. Whole process only involve 3 simple steps – Photo selection, select resize settings and start the resize process.
4. Download Google Picasa, besides serving as full blown image explorer and viewer – you can resize images on the fly with this desktop based application.
5. Visualizer Photo Resize is a free, fully functional batch resizer, converter and optimizer. It can handle all your photos and graphic documents (almost).
Above are few handy utilities to batch resize images on the fly. Best place to start is – look for resize option in the image editing or viewer software already installed on your computer.
Shrinkpictures allows you to resize images online (not batch) incase you hate installing stuff on computer!