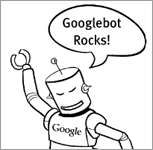 A website or weblog well indexed by Google can enjoy loads of traffic. So, it is very important to make your website or weblog Google friendly by taking care of few important aspects. Google Webmaster Team has prepared a video presentation explaining basic aspects of making Google friendly websites.
This covers very basic and easy to follow elements like making a sitemap, submitting website to Google, duplicate content, optimizing content for easy discovery by Google. It also explains ways to optimize images and dynamic content for better placement in Google search.
It reinforces the fact 'Google PageRank' is still an important factor for website's placement and importance in Google search. It explains ways to increase pagerank and importance of using 'nofollow' tag for advertisement and other non-related links. Checkout the video presentation [Google Docs format – via], worth a watch for every webmaster and blogger.