'I Love You', want to say this sweet line to someone with different language understanding? 'HowToSayIn' is handy web tool to translate any punchline into different languages.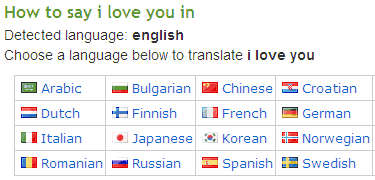 Of course you can use Google Translate for language translation needs but this is something different. It focuses on common punchlines users are interested in translating into other languages. Besides the love line other punchline popular on the website are:
thank you so much
i dont want to die alone
do you have nuclear warheads
As shown in image above, you can select any language and see the translated version. Head over to 'HowToSayIn' to translate anything you like – "go to hell my Love", maybe!