Do you want to calculate "number of times" same word appear in a text document? Word Frequency Counter is a cool tool to calculate word frequency from given text quickly. On the click of a button, it shows frequency listing of each word and number of times it has been repeated in the provided text.
Word Frequency calculation of same words
1. Download Word Frequency Counter program.
2. Install and launch the program for use.
3. Then type or paste text in the program window.
4. Click "Add Document" button to see detailed frequency listing.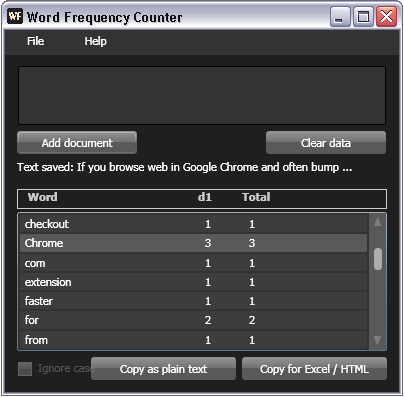 You can copy the tabulated data to text file by clicking 'copy as plain text' button. Alternatively, save results in formatted HTML or Excel file by using 'Copy for Excel \ HTML' button. You can also edit word listing by going to File > Edit Stopwords list. For sure one handy program to quickly calculate word frequency from any document file.