Ideally, we cannot insert special typographical characters like quotation marks, en dashes, copyright, euro currency symbols from normal keyboard. "Type it Easy" application makes this all easy to insert special characters in document files. After install, use shortcut keyboard keys to insert special characters. For example: use AltGr + C keys simultaneously to type the copyright symbol. Following image show layout of keys on standard keyboard to easily use this application.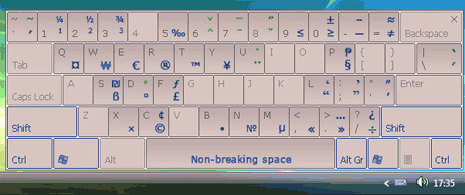 Features of 'Type it Easy' to insert special characters
1. Type text in an easy way in accordance with the typographical rules.
2. Insert diacritical marks without using a special keyboard layout.
3. Select control key among: AltGr, left and right Ctrl, left and right Win.
4. Easily enable or disable program using hotkey Win + Z
5. On-screen hint window to easily know shortcut keys.
6. Adjust transparency of on-screen hint window.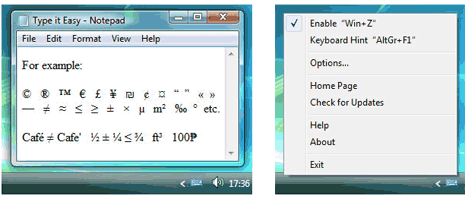 Download Type it Easy application to easily insert / type special typographical characters in documents. Works fine on Windows 2000, XP and Vista. One handy and quick way to insert special characters!