Apple release updates for software installed on your iPad device. It is important to keep software on iPad updated for best performance, newer features and security. You will need a computer with itunes and internet connection for updating iPad software. During software update no data is lost. However, all settings and data is lost – if you are required to perform restore after update (in some cases).
Update to latest version iPad software
1. To get started, make sure latest version of iTunes software is installed on your Windows or MAC system. (You can download it form apple.com/itunes). Also make sure internet is working on the computer.
2. Now connect the iPad device to the computer. iTunes screen should pop-up automatically, otherwise open it manually.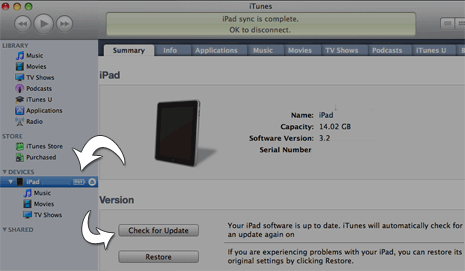 3. Select iPad in the iTunes left sidebar and then click Summary tab.
4. Click 'Check for Update', you will get notification if new version of iPad software is available or not.
5. Then click Update to install the latest version of the software on iPad. Keep iPad connected to the computer till the update is completed.
If you face any issue as a result of software update on iPad you can always restore iPad contents like it was when you got it new. However, all data and settings will be lost as a result of iPad restore.