We have already seen VectorMagic that converts an image into vector format and allows image enlargement without losing on image quality. SmillaEnlarger is another cool application that can increase size of images without losing on quality of enlarged image. It neatly enlarge images without making final image look blur or fuzzy. Here are simple steps to get going: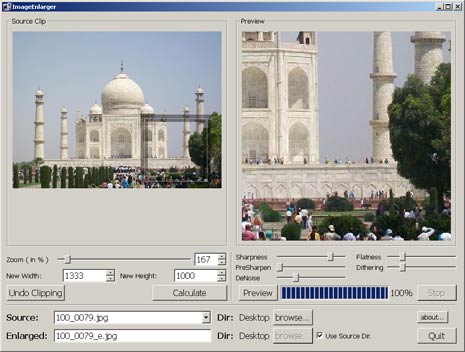 1. Download SmillaEnlarger application [8MB, free]
2. Unzip & double click ImageEnlarger icon to start [no install required]
3. Click Browse to load any image on your computer in this application.
4. Configure zoom, sharpness, denoise levels & make final adjustments.
5. Click Calculate to save enlarged image in same folder as original image.
SmillaEnlarger helps increase size of images without making them look bad or blocky. It is very basic and is ideal for image enhancement and increasing image size on the computer. Try it, you will be amazed!