Making a screensaver without installing any software? Yes, that is what online tool 'instaSaver' intends to do. It is easy, quick and very effective for making screensavers instantaneously. You can make screensaver from your personal or favorites images. Besides you can also get your Flickr photos to be part of your screensaver.
It has very easy to use interface: first select the name of the screen, then upload images from your computer or get them from your Flickr account. Final step involves configuring slideshow settings. Here you need to select/configure the slide transition speed from a drop down menu.
Also you need to select background image for the screensaver. There are number of image options available for background images with 'Silver Light' and 'World of Photos' being my personal favorites. Then click on the next button and you will get prompt to download the screensaver.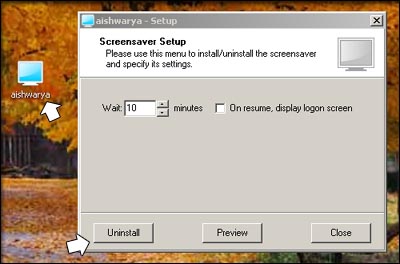 After download is complete, you will see a file similar to 'aishwarya' (see arrow) as on the above image. Double click on the file to install the screensaver and later preview it.  
Removing screensaver from your computer is also very easy, double click on the downloaded file and then click on 'uninstall' button (see arrow).
InstaSaver: Website – Upload Images – Get Images from Flickr 
Add some creativity and make a quick screensaver of your favorite images. Now you don't have to leave computer screen blank when not in use, flaunt it with a customized screensaver. For Flickr fans here is more, 10 Tools to Upload Images to Flickr with ease.